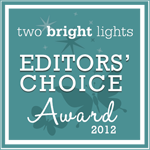 All of our hard work is paying off! We are so excited to receive the 2012 Editor's Choice Awards from Two Bright Lights!
So, as exciting this is for us you're probably wondering what is two bright lights?!
Two bright lights is a website that allows us to share your amazingly special day, the hard work you put into it, the amazing creativity and our photos with the world. There are tons of amazing blogs and magazines that brides-to-be will look at to get inspiration and Two Bright Lights let's us easily get our photos to them.
Many of the editors are super picky, so when we are selected as an editors choice it means they have chosen our weddings consistently over hundreds of others to be featured!
The award is given in recognition of the those whose number of published features in 2011 placed them among the top 5% of all Two Bright Lights members. Winners were published across many of the most respected lifestyle, wedding and other print and digital publications in the United States and worldwide.
We are honored to be part of this group of talented photographers and creative professionals.
We wouldn't have anything to submit if it wasn't for our amazing clients and their weddings so THANK YOU!! Thank you for letting us document your special days and be a part of your lives.
Here is where you can find our work featured!